0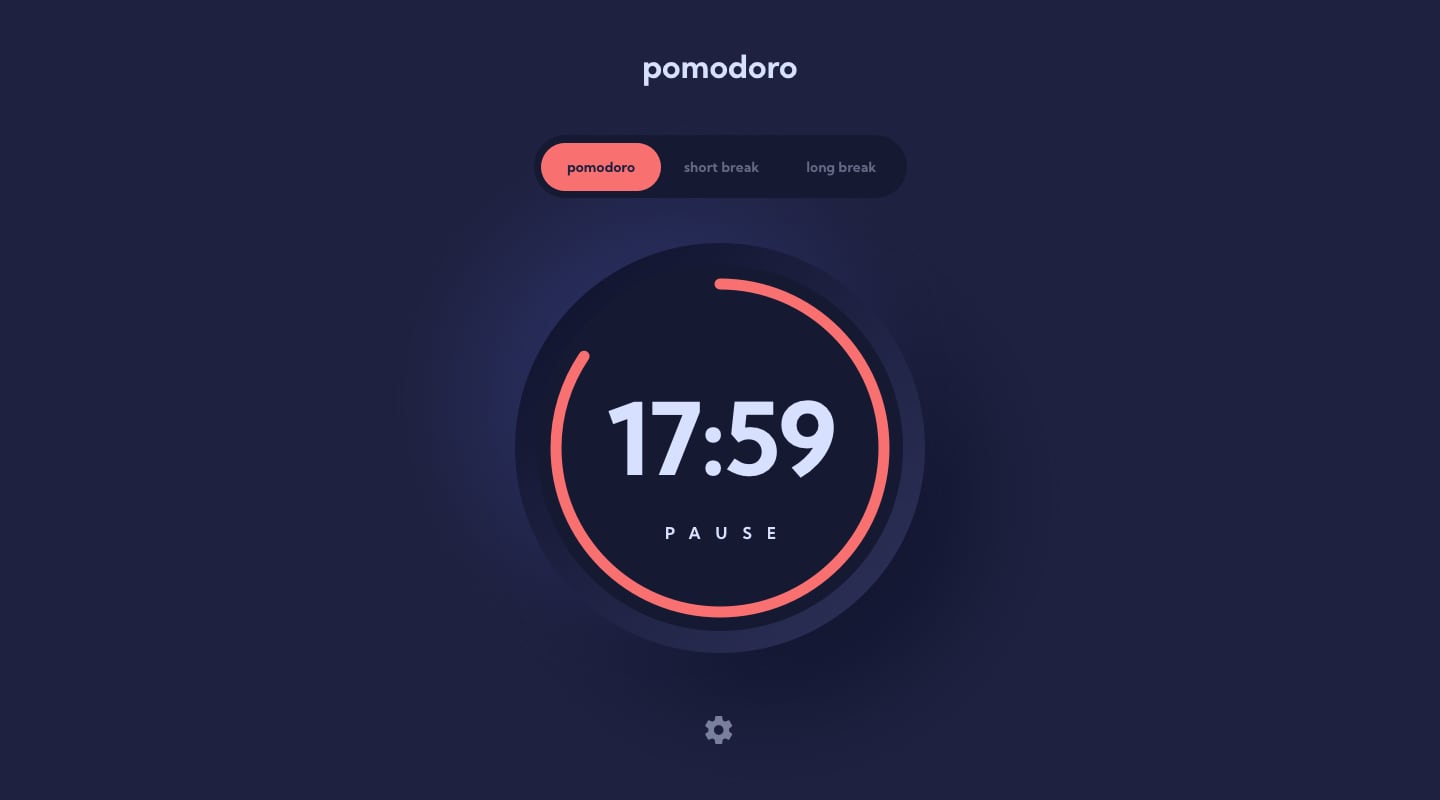 Pomodoro app
Assets Provided Include
Sketch and Figma design files
Mobile, tablet & desktop layouts
Professional design system for colors, fonts, etc
Optimized image assets
README file to help you get started
HTML files with pre-written content
Challenge
Brief
Your challenge is to build out this Pomodoro timer app and get it looking as close to the design as possible.
You can use any tools you like to help you complete the challenge. So if you've got something you'd like to practice, feel free to give it a go.
Your users should be able to:
Set a Pomodoro timer and short & long break timers
Customize how long each timer runs for
See a circular progress bar that updates every minute and represents how far through their timer they are
Customize the appearance of the app with the ability to set preferences for colors and fonts
Download the project and go through the README.md file. This will provide further details about the project and help you get set up.
Want some support on the challenge? Join our Slack community and ask questions in the help channel.
Getting started
Download the starter code

Set up the project with version control (e.g. Git)

Read the README.md file and have a look around the project

Get colors, fonts, etc from the design system in the design files

Set up your project/file architecture however you want

Start coding!
Ideas to test yourself
Train your eye for detail by getting your solution as close to the design as you can

Try estimating the time it will take for you to build the project. Then see if the time taken matches up to your estimate. Project estimations are a skill that is often overlooked, but is important for professional developers
FAQs
Our free challenges are perfect projects to test your skills and improve your front-end workflow. The premium challenges allow you to build a seriously impressive portfolio of projects whilst providing the most realistic development workflow possible.
We don't provide "official" solutions for the challenges. This is because there is no single perfect way to complete a challenge. Instead, you're encouraged to review other people's code in the community. You can learn so much by seeing how other people have approached the same challenges.
If you would like to receive feedback please be sure to post a question when you submit your solution. The more specific you can be the better. This will give others in the community an idea of the help you're seeking.
Of course! Frontend Mentor was created to make professionally designed projects more accessible to the development community. Please feel free to use anything you build in your portfolio.
Definitely! We provide easy account management through the Settings page. Click on the Billing tab and you'll be able to manage your subscription without a problem.
No problem. We want you to be completely happy with your purchase. We offer a 14-day refund guarantee. Simply email [email protected] within 14 days of becoming a PRO member and we'll refund you, no questions asked.
Join our Slack community
Join over 30,000 people taking the challenges, talking about their code, helping each other, and chatting about all things front-end!
Subscribe to our newsletter
Stay up-to-date with new challenges, featured solutions, selected articles and Frontend Mentor latest news